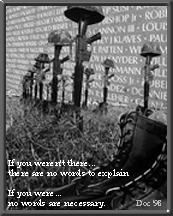 The following pages of pictures are dedicated to
the 58,000 plus who never made it back, and also
to the countless others who served but have only
made it partway back. All pictures are copyrighted by
W.B.Anderson (except where noted) and are not to
be used elsewhere without the express written
consent of the owner.
---
Edward J. Ginter
Greensburg, PA.
July 30, 1946

SP-4 U. S. Army
4th Infantry Division
Panel-15E Line-95
February 26, 1967 - Tay Ninh




Friend and Classmate


Rest in Peace "Gint"!
---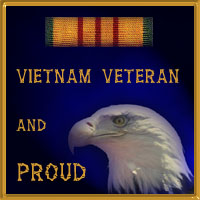 It don't matter where, in NAM, you were.
And it don't matter what, in NAM, you did.
All that really matters
is that YOU WERE, and that YOU DID!

(1999 - W. B. Anderson)


---
OK! We're now ready to move out.
Click on the button to go to Grumpy's Picture Pages.

---