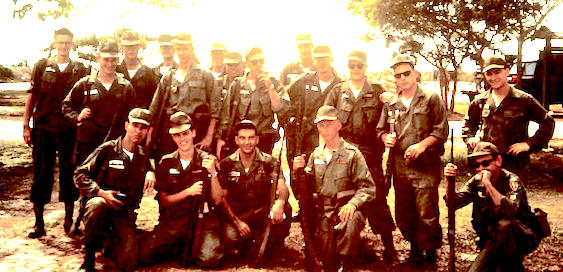 Cecil is 4th from the left, 1st row.
I started (3/65) with the 3rd RRU in Saigon (it became the 509th), on Christmas Eve 1965, was sent to Phu Bai (8th RRU) Returned to the states 4/66.
When I left the Army in 1968, I had no intentions of looking back. College and getting a job was first and foremost in my life. Fast forward 30 years and I began to wonder where all those friends of old were. Over the next 10 to 15 years, I had searched for and successfully found over 50 that I had served with. I even put together an album and started a mail chain that went from one friend to another and asked for their contributions. During that time I went to Oregon to see my best military friend, then down to the California Bay Area, with him, to reunite with another. A few years after that I went to Michigan to go on a weeks' trip with Hal Smith as we visited several others in Illinois, Minnesota, and Wisconsin. Approaching 6 years ago, my daughter invited my wife and I to go on a trip to Virginia Beach, and for me to run a race with her. I finished 3rd among the old guys. That completed, we ventured further into DC, where we spent about 3 days, taking in the Museums and on our final day we went to Arlington National Cemetery. This part of the trip game me additional time to reflect upon my military service, and why did we had to loose so many lives in so many wars to preserve our freedom? As I was exiting ANC, I glanced over and saw the 101st Airborne Division Monument. We were all tired, so I told my wife and daughter to go ahead and I would catch up after viewing. I consumed their heroic history, and loss of lives, and was personally moved by it. I made a quarter of a right turn, and my mind said to me: Damn, in Vietnam, had it not been for the ASA, your total lives lost would have been much higher. I felt God laid it up my shoulders to try to do something to get recognition for the ASA Veterans, and ANC seemed to be the best place for recognition and maximum exposure. Of all those who ever served in the ASA, this small town boy, SP4, was the least likely to venture on such an undertaking. It is a big task, and without YOUR help the Unsung Heroes of the Unknown Army Unit, will forever be locked behind the Green Door. Get involved and do not settle for anything short of: ALL THE WAY! What say YOU?