HARRY THOMAS NEWMAN
Lieutenant Colonel, U. S. Army
Born 1943, Danville, Virginia
Wife: Ruth Sons: Tom and Kyle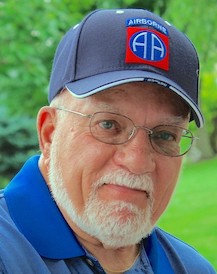 Enlisted in U. S. Army: 10 January 1966 in the U. S. Army Security Agency
Retired 30 August 1986
Source of Commission: Infantry OCS
Commissioned into the Military Intelligence, Army Security Agency (ASA), 2 May 1967
Regular Army Appointment: 16 September 1977
Military Education: - Enlisted ASA ELINT Interceptor Course (August 1966)
- ASA Basic Officer's Course (September 1967)
- Basic Airborne Training (VN) (January 1969)
- MI Officer's Advance Course (March 1971)
- ASA Advance Officer's Course (May 1971)
- USAFE Human Relations Course (Nov 1974)
- U.S. Army Command and General Staff College (June 1980)
- U.S. Army Materiel Acquisition Management Course (September 1984)
- Civilian Education: - B.A., Political Science, Mount Saint Mary's College (May 1972)
- Master of Military Arts and Science, U.S. Army Command and General Staff College (June 1980
After retiring from the Army out of Fort Huchuca in 1986, I went to work for a defense contractor, GTE, Government Systems Corp.
Worked as business development and program management. They were subsequently bought by General Dynamics, from which I retired in 2003, moving to the Winchester, VA area - retired, retired.
Served (past and current) on various committees at the Macedonia United Methodist Church - currently a member of the Board of Trustees and the church maintenance committee.
Member of the local Ruritan Club - serving as secretary for the past 10 years.
Member of the Antique Auto Club and the Subaru SVX club.
Worked with the local Habitat for Humanity on committees, Board of Directors, then President of the Board of Directors, and helped start up the Habitat ReStore -
last year, the revenue was $1.4M, fully supporting the local affiliate.
Probably much more that you wanted to know ..... :-)
Currently working on my autobiography ....