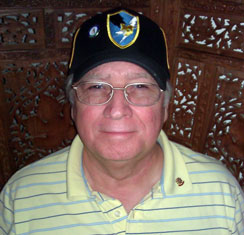 Biographic info for Don Helton
Seat #2, 2010 - 2019 (Deceased 4/24/2019)
Military
Comm Unit-Vietnam, Davis Station, Vietnam, 72-B, 1968
Comm Unit-Japan, North Camp Drake, Japan, 72-B, 1969-1972
HQ, ASA, Arlington Hall, Management Information System, 74-F, 1972-1974

Made Warrant Officer (721A, Cryptographic Technician) and was offered Germany for three years with family or one year in Sinop, Turkey. I then discovered I was leaving the ASA and fixed communications by choosing Germany. Served in 8th Infantry Division and 3rd Infantry Division. It was a REAL shock the first time I walked down the unit's streets and saw the troops (drug usage, such as hash, pills, was very common in Germany during the mid-70's in the Army).

While all the other WOs in my MOS selection group went Voluntary Indefinite (Vol Indef) at their first opportunity, I decided to wait and see what it was like. I decided to get out after about 1 1/2 years since I did not want to spend 13 years in tactical communications. Expecting me to go Vol Indef, the Army had assigned me to the 82nd Airborne Division at the end of my 3-year commitment, I received a welcoming letter from the brigade commander and a sponsor and had my name published in the Army Times with the assignment to the division. Was presented Vol Indef papers the last day of out processing and still refused to sign. Obviously, my best military memories are those when assigned to the ASA!

Memberships and other activities
Member, Kentucky Veterans Hall of Fame
The Military Order of the World Wars; Association; American Legion; Veterans of Foreign Wars; Lions Club; Boy Scouts of America; Military Officers of America; Louisville Flag Committee; National Army Security Agency Association (Board); Vietnam Veterans of America; HDB Services Group, Inc. (vice chair); Disabled American Veterans; Joint Executive Council for Veterans; Association of the United States Army; Old Spooks and Spies; KIPDA Aging Advisory Council (former chair); National Rifle Association; Louisville Armed Forces Committee; Kentucky's Special Advisory Commission of Senior Citizens; former Kentucky Governor's Advisory Board for Veterans Affairs (vice chair), Kentucky Veterans Trust Fund Board member, and Oldham County Technology Advancement Network for Enterprise (president)

Some of the programs organized/founded include: Civic club; Community chorus; Fund raiser for county police/sheriff's office; Naming of a section of a state highway the Veterans Memorial Parkway; Interdenominational Christian men's luncheon; numerous service projects (e.g. benefiting children tornado victims, a village's children in Poland); Two Boy Scout troops and two Cub Scout packs. For veterans, including building and managing www.kentuckyvets.com; developing Veterans Memorial Park of Kentucky – www.VeteransMemorialParkKy.org; resource for veterans who may have VA medical claims; served on two one-week mission trips to Dominican Republic.

Scout leader for over 30 years at the unit, district, and council levels (including, serving twice on the Boy Scouts of America's National Jamboree staff).