Medal of Honor Citation
Lewis Lee Millett, Sr. (December 15, 1920 – November 14, 2009)


RANK AND ORGANIZATION: Captain, U.S. Army,
Company E,
27th Infantry Regiment.
BORN: 15 December 1920, Mechanic Falls, Maine.
ENTERED SERVICE AT:Mechanic Falls, Maine. PLACE AND DATE: Vicinity of Soam-Ni, Korea, 7 February 1951.

CITATION:
Capt. Millett, Company E, distinguished himself by conspicuous gallantry and intrepidity above and beyond the call of duty in action. While personally leading his company in an attack against a strongly held position he noted that the 1st Platoon was pinned down by small-arms, automatic, and antitank fire. Capt. Millett ordered the 3d Platoon forward, placed himself at the head of the 2 platoons, and, with fixed bayonet, led the assault up the fire swept hill. In the fierce charge Capt. Millett bayoneted 2 enemy soldiers and boldly continued on, throwing grenades, clubbing and bayoneting the enemy, while urging his men forward by shouting encouragement. Despite vicious opposing fire, the whirlwind hand-to-hand assault carried to the crest of the hill. His dauntless leadership and personal courage so inspired his men that they stormed into the hostile position and used their bayonets with such lethal effect that the enemy fled in wild disorder. During this fierce onslaught Capt. Millett was wounded by grenade fragments but refused evacuation until the objective was taken and firmly secured. The superb leadership, conspicuous courage, and consummate devotion to duty demonstrated by Capt. Millett were directly responsible for the successful accomplishment of a hazardous mission and reflect the highest credit on himself and the heroic traditions of the military service.
---
FOR IMMEDIATE RELEASE
Feb. 12, 1998
Release No. 98021
Medal of Honor recipient returns to Osan for "Bayonet Hill" ceremony
by Staff Sgt. Chris Miller
51st Fighter Wing Public Affairs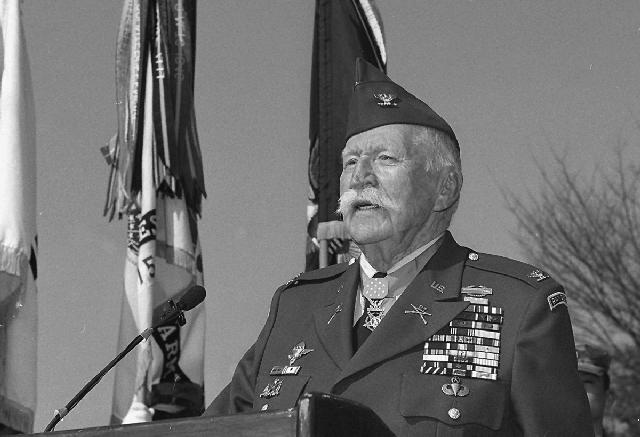 Army Col. (ret.) Lewis Millett, Medal of Honor recipient for his exploits during the Korean Conflict, speaks at a Hill 180 remembrance ceremony. (U.S. Air Force photo by Airman 1st Class Orly Tyrell)
OSAN AIR BASE, South Korea (PACAFNS) -- From Veterans of Foreign Wars to Boy Scouts and high school Junior Reserve Officer Training Corps cadets, people gathered Feb. 6 at the site known as Hill 180 in a ceremony to remember those who gave their lives in combat during the Korean Conflict.
This was a special ceremony as Army Col. (ret.) Lewis Millett, who led the charge up "Bayonet Hill" in 1951, and awarded the Medal of Honor, was the special guest.
After Lt. Gen. Randolph House, 8th Army chief of staff, gave his remarks, Millett took the podium. As he began to speak, the crowd grew silent, on the edge of their seats listening to his every word as he spoke about the assault, how his men faced heavy anti-tank and machine gun fire, and how they rushed the Chinese who had pinned down one of his platoons.
"You don't realize what an honor it is for me to be here today," said Millett. "This is an opportunity for me to thank you, not just the VFW who sponsored my trip here, or the Army and Air Force, but to all those who paid the ultimate sacrifice for their country."
Nearly 47 years to the day it happened, Millett said his attack on the Chinese was ordered to unnerve the enemy. The Chinese thought Americans were afraid to use their bayonets.
He also talked about freedom and the price that was paid, not only in the Korean Conflict, but all wars, for the freedom we enjoy today.
"I have fought in three wars, in seven countries, visited kings and commoners, peasants and presidents, soldiers and strangers," said Millett. "And all they wanted was to be free and live in peace. But the price of freedom comes at a very high price."
Millett then read a soldier's prayer, which he wrote after his oldest son was killed coming back from a peacekeeping mission. The ending of the prayer was, "So to you who've answered duty's siren call, may God bless you my son, may God bless you all."
When Millett was finished speaking, the overflow crowd gave him a standing ovation as he walked back to his seat. Many observers had tears in their eyes.
Bagpipes then played Amazing Grace on the top of the hill overlooking the ceremony before representatives laid wreaths near the Hill 180 monument.
Col. Con Rodi, 51st Fighter Wing vice commander, had a sign called Millett Road, which renamed the road running from the Hill 180 gate down to the A-10 monument at Broadway. Although still pending official approval, Rodi declared the road should unofficially be referred to as Millet Road. Rodi then gave Millett the actual sign, saying the base would have other ones made.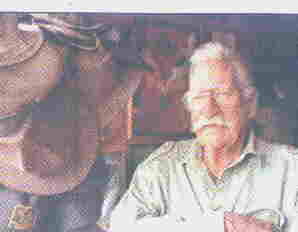 Colonel Millett
Idyllwild,California
May 1999